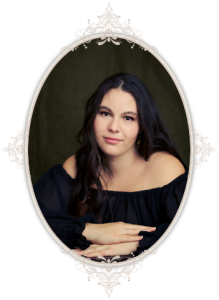 Welcome, and thank you for choosing Cara Waterson Photography to capture these fleeting moments in your life. I aim to provide you with images that you and your family will treasure for years to come.
In order to help you to prepare for our session, I ask that you read through this document carefully as it is filled with information to make our time together run as smoothly as possible. Please feel free to contact me with any questions, concerns or special requirements you may have eg: developmental or mobility issues.
When Scheduling a session for your family please be aware that outdoor session happen at specific times (usually sunset or sunrise) to get the best light for your session – sometimes this will clash with bedtime for younger children but is unavoidable – By making sure your little people are fed and well rested on the day we can both work to keep them engaged and involved in your session. I do give treats during our session (usually animal crackers) so if your child has allergies or special dietary requirements please let me know ahead of time.
I highly recommend drinking lots of extra water for the prior two days…It will make both your and families skin look particularly beautiful! Using Lip balm and body lotion for the week prior to your session will also help all of you glow in front of the camera. Please make sure all eyes, noses, finger and toenails are clean and groomed and keep sticky treats for AFTER the session.
What to Wear:
Consider where you intend to hang your images before choosing outfit colours to ensure the images will compliment the space.
Outfits should coordinate rather than match, but plain white shirts do not work well in the studio. I recommend starting with mom's outfit and then picking colours that tie in for the boys as they are easier to dress. I recommend neutral palates with pops of colour and texture that lean towards classic or vintage styling rather than trendy and advise button ups rather than t-shirts unless
they are essential to the look you hope to achieve. Solid colours work better than fine prints, avoid pinstripes and neon colours as they do not photograph or print well. Your wardrobe should be free of logos, pictures and writing. I recommend bringing extra items of clothing so that if we find something is not working we can change it on the spot and it also gives you different "looks" to choose from later. Shoes matter – please don't bring white sneakers. Rather go for boots, coloured flats or sandals that tie an outfit together and will bring colour and personality to your images.
Avoid looks that will leave your images looking dated in years or even months from now.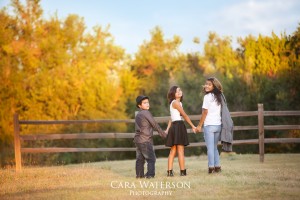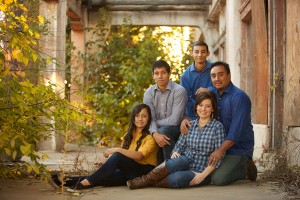 On the day:
Please don't forget bug spray! The City does spray annually but I think someone forgot to inform the mosquitoes and they can descend really fast and thick unless you are protected. Please only bring those who are to be photographed to the session. Cameras and other recording devices are not permitted. If inclement weather does become an issue I will contact you as soon as possible to reschedule.
I look forward to meeting you and your family, and again – thank you for choosing Cara Waterson Photography.